This Month's Choice:
An Offer You Can't Refuse - but will you get the chance..?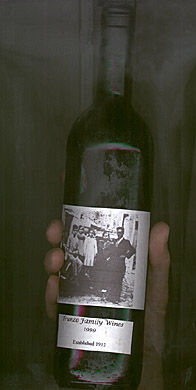 The Trunzo Family Red, 1999
A unique Sicilian wine, rich in character and virtually unobtainable as only a few hundred bottles are produced each year, but who knows, you may be lucky!
Definitely one for drinking young and fresh, this wine is full-bodied and vigorous, with a kick like a Thompson machine gun. Goes well with the food served up at Rino's antipasto bar, "The Red Zucchini", at 255 Military Road, Cremorne, Sydney, Australia (02 9953 4555).